CYCLE INSTRUCTOR JOBS · MULTIPLE LOCATIONS · FULLY REMOTE
Could you enthuse the next generation of cyclists? Outspoken Training are searching for enthusiastic and energetic individuals to deliver fun, inspiring Bikeability cycle training in local schools.
Outspoken Training is one of the biggest providers of progressive, life-changing and fun cycle training throughout England, predominately working with local authorities and local businesses to increase cycling levels. We have a dedicated team who make it their mission to demonstrate the life is better by bike!
It is our belief cycling has the power to transform communities by creating fitter, healthier, less congested, and less polluted neighbourhoods.
We offer accredited National Standard and Bikeability cycle training to help people use bicycles as an everyday form of transport. We are also certified to deliver nationally recognised cycle instructor qualifications and training for new and existing cycle instructors.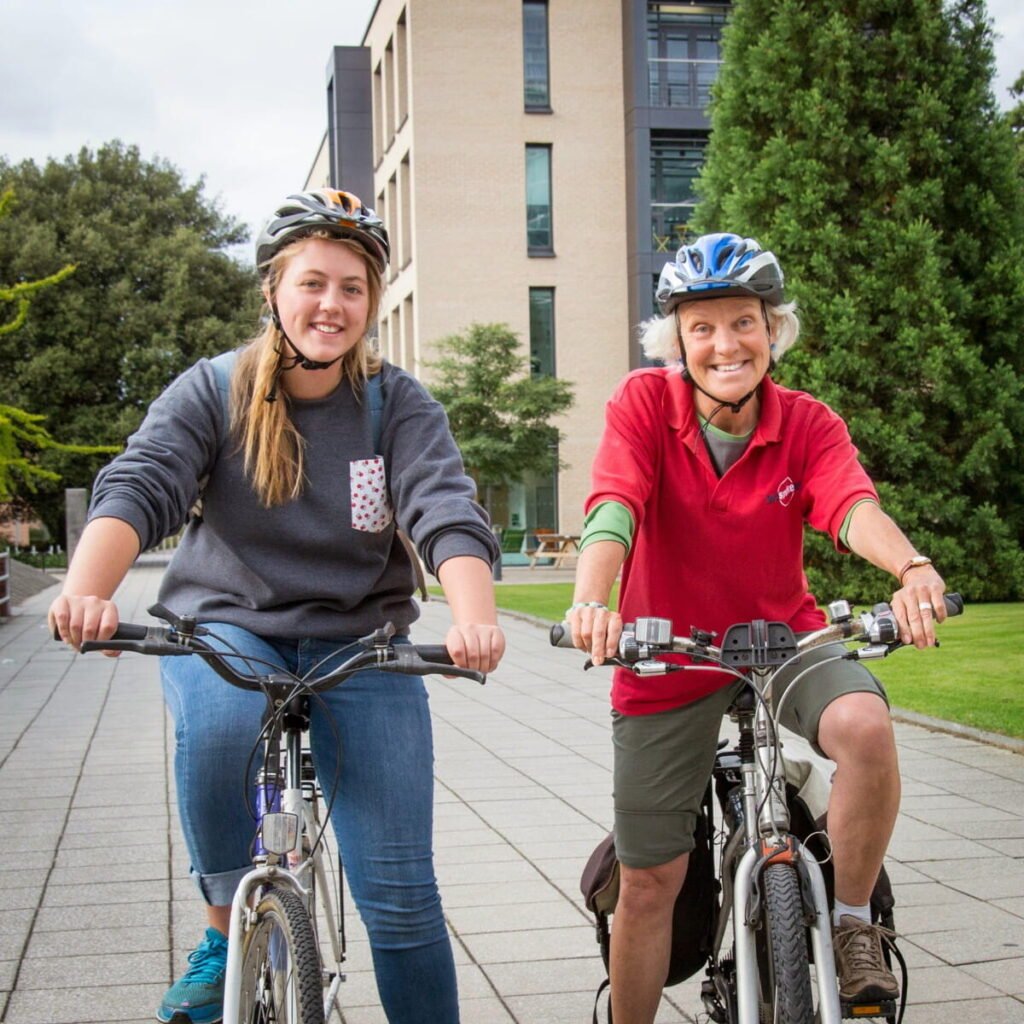 About the role:
Do you enjoy cycling?
Do you like working outdoors?
Would you like to work in schools?
Are you looking for term-time work within school hours?
Could you inspire more people to cycle?
Outspoken Training is recruiting enthusiastic individuals to deliver fun, inspiring and rewarding Bikeability cycle training courses to children within local primary schools. As well as being a competent cyclist, you must be able to communicate effectively and will have some previous experience of or a strong interest in coaching/teaching.
Main duties and responsibilities:
Plan fun, exciting, and progressive sessions
Work in pairs to deliver energetic, fast paced, and challenging sessions
Maximise riding time and opportunity for pupils
Ride with groups of pupils between sites
Work outdoors in a variety of off and on-road environments
Look after the welfare and safeguarding of all pupils
Reflect on own performance to continuously adapt and improve practice
Complete course paperwork, including checking registers, checking consent forms, course outcomes, etc.
Conduct risk assessments of clients, bicycles and training sites, including on and off-road locations
Communicate and liaise effectively with pupils, school staff, parents and clients
Give advice on any relevant cycling matters
Report all course information and feedback promptly to the office team
Pay:
£12 per hour (£10.90 per hour for the first 100 hours of work). Holiday pay is on top of this and we pay a contribution towards mileage. Please request an application pack for more detail. 
Locations:
You can stipulate an area to work in within our delivery areas of:
Bedfordshire (including Luton);
North Buckinghamshire;
Cambridgeshire (including Peterborough);
Lincolnshire;
Norfolk
Northamptonshire;
Oxfordshire;
Warwickshire; and
West Suffolk.
Benefits:
Fully funded Level 2 Award in Instructing Cycle Training qualification provided.
Accredited safeguarding training provided.
Employee benefits scheme including discounts on weekly food shops, fuel and lifestyle shopping.
Wellness support programme
Work patterns and hours:
Hours are agreed in advance with most courses running over 4 consecutive days, normally Monday to Thursday, within school hours and term times. We also run 1-day courses on Fridays and weekends. The earliest start time would be 8.45am and the latest finish time would be 3.15pm.
The role will appeal to someone who is looking for school term time work, isn't reliant on a regular form of income or has other work to supplement their income. Why?:
Cycle training courses run predominately during school hours and term times.
Daily working hours can vary from between 2.5 and 6 hours depending on the number of pupils being trained in each school.
We cannot guarantee that we can offer you work every week.
As a Cycle Instructor, it is a Department for Transport requirement for instructors to attend annual CPD training. Outspoken provide this training for free during the Summer Holidays.
Typical Day:
1. Before Training
Liaise with co-instructor to discuss arrival times and where to look for training locations.
Print paperwork (can be done electronically)
Prepare equipment – cycle, tool kit, first aid kit, etc.
Arrive at training venue
Liaise with venue staff
Site select/Risk assess training locations and plan sessions
Set up equipment – cones, Hi-Viz, road sign flash cards, etc
2. Deliver fun and educational sessions
3. After Training
Feedback to participants
Feedback to venue staff
Complete and hand over award materials
Complete course outcomes
Return course paperwork to the office.
What you need to provide to fulfill the role:
A roadworthy bike to use during every session.
A helmet
A tool kit – Allen keys, spanners, lubricant, pump (preferably a track pump), puncture repair kit, etc.
A first aid kit
A method for carrying equipment cones, Hi-Viz, paperwork, etc such as pannier bag/s or a rucksack
Suitable clothing to keep you warm/cool whilst you stand around during sessions.
Person Specification
Essential requirements:
Potential instructors must:
Be 18 years old or older.
Be enthusiastic about cycling with an understanding of cycling as a means of transport, leisure pursuit, sport and healthy form of exercise.
Have a roadworthy bicycle.
Be motivated to make a difference, enthusing more people to cycle.
Be a regular, competent cyclist able to cycle in a variety of traffic conditions.
Have an awareness of Bikeability and Outspoken Training's services.
Have excellent inter-personal skills to liaise with team members and clients, developing strong relationships, instilling confidence and leaving a positive impression.
Have proven experience and success working with groups of children and/or adults in a teaching, coaching and/or instructing role or have an interest developing these skills.
Ensure high standards of professional practice and quality of instructing.
Be punctual, presentable, reliable, trustworthy, honest, friendly, patient and enthusiastic.
Have the ability to stay calm in all situations.
Be fit and healthy. You will be standing up or riding whilst working. You need to have good physical fitness and plenty of stamina.
Be able to work effectively within a team.
Be able to complete course paperwork accurately and on time. This includes using email and basic Excel.
Be able to cope with the paperwork involved with submitting timesheets
Be available for work five days a week on a regular basis during school term time.
Desirable requirements:
It is also useful (but not essential) if potential instructors:
Be able to prepare, plan, deliver and evaluate training sessions/courses.
Are a qualified Level 2 National Standard cycling instructor. If not, we will arrange for you to attend a 4-day Instructor Course which we pay the course fee for (you would not be able to claim any hours for attending).
Possess an up-to-date, 1-day, practical Emergency First Aid at Work or equivalent qualification. If not, then this will need to be completed before delivering any training. Outspoken will contribute £66 towards the cost of a course.
Have completed a certificated Safeguarding Course. If not, Outspoken Training will pay for you to undertake an online NSPCC Child Protection in Sport 3-hour course.
Have other work, or not rely on cycle training as your main source of income.
Can drive and have access to a car.
Have good basic bike maintenance skills.
Cycle Instructor - Apply Now